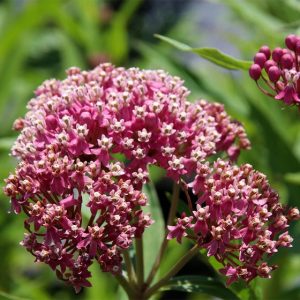 Asclepia Soulmate
With a height of 42 inches and a width of 24 inches, this is a perfect center piece plant. Plant in Full sun, is deer and rabbit resistant, butterflies and bees love the flowers and tolerates clay soil.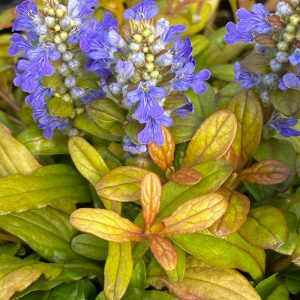 Ajuga Feathered Friends Fancy Finch
This is part of the feathered friends line which we do have others as well. This plant gets 3-4 inches tall and 16-18 inches wide so it's a good groundcover. Plant in full sun to part shade and it blooms early spring to mid summer.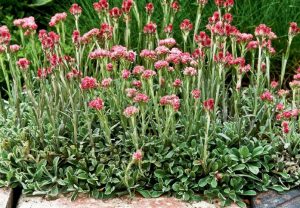 Antenaria Rubra
This plant gets 4-6 inches tall and 10-12 inches wide so is perfect for a groundcover. It likes full sun and normal or clay soil- the soil must be dry though. Its drought tolerant and blooms late spring to early summer.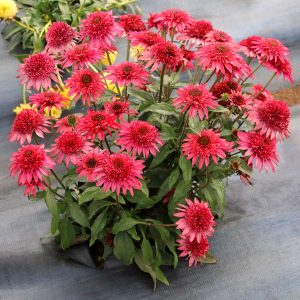 Echinacea Giddy Pink
This plant is 22 inches tall and 24 inches wide. Loves full sun and blooms fragrant flowers from July to October. Its deer resistant and attracts- butterflies, bees, and hummingbirds.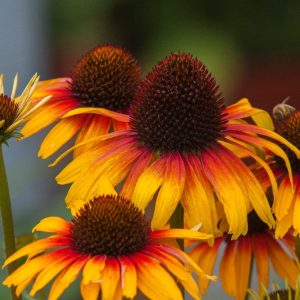 Echinacea Parrot
This plant has a cool multi color flower that just screams paradise! Its gets 18-20 inches tall and 14-18 inches wide. When established its drought and heat tolerant. This plant loves full sun, is a long bloomer, and butterflies bees and hummingbirds love it.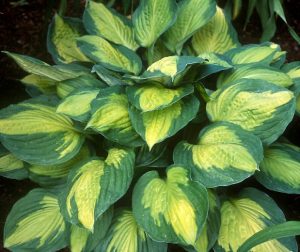 Hosta Captain Kirk
This hosta gets 20 inches tall and 36 inches wide. Plant in morning sun of full shade. Hummingbirds and song birds love the flowers.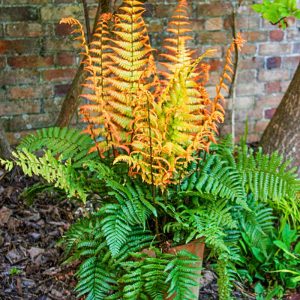 Jurassic Gold Fern
This plant gets 18-24 inches tall and 14-18 inches wide, plant in part to full shade. This plant is cool because it has clumps of green leaves with bright yellow leaves in the center. Make sure it stays moist and is in well drained soil.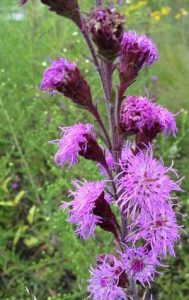 Liatris ligulistylis
This liatris is a pollinator MAGNET! It gets 5 feet tall so make sure there is plenty room for it to grow. It loves full to part sun and medium soil moister. Blooms August and September.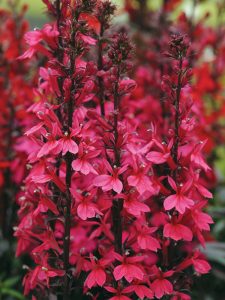 Lobelia Starship Rose
Can you say PINK!! This plant is 20-24 inches tall and 12-24 inches wide. It blooms mid summer to early fall and butterflies, bees, hummingbirds, and songbirds love this plant. Plant in full sun and is good in rain gardens. Deer and rabbit resistant.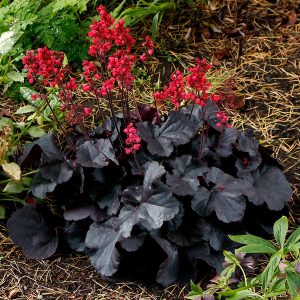 Heuchera Black Forest Cake
This plant likes to be in shade. It gets 6 inches tall and 12 inches wide. Blooms pretty pink flowers that compliment the dark leaves perfectly in May and June. Make sure its in well drained soil and this plant would rather be dry then wet when established.
[/fusion_content_box][/fusion_content_boxes][/fusion_builder_column][/fusion_builder_row][/fusion_builder_container]