ACANTHUS SPINOSUS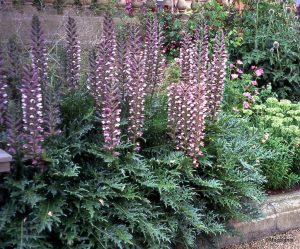 Grows in the sun to 3-4 feet tall and 2-3 feet wide. Pink/Mauve blowers bloom from June into August. Tough plant with great texture. Also Rabbit resistant                                              
AGASTACHE ARIZONA SUN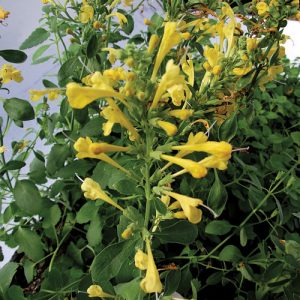 Grows in sun to 24 inches tall with golden yellow/orange flowers from June thru September. Likes well drained soil.
Great pollinator for bees and hummingbirds. Deer resistant   

AGASTACHE BLUE BOA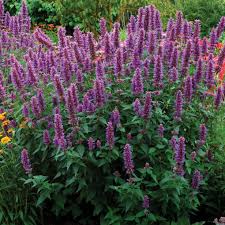 Grows in sunny spots with  well drained soil. Grows 2-3 feet tall  and 18 inches wide. Violet blue flowers bloom from June into September. Hummingbirds love this one! Also Deer resistant
AMSONIA BUTTERSCOTCH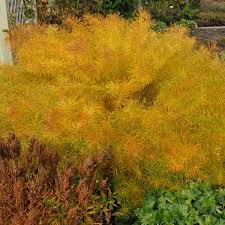 A  great multi-season native. Butterscotch has an improved form with reddish stems. It develops attractive steel blue flowers in summer. The rich fall color brings life to any landscape. Resistant to tip dieback other Amsonia experience.
CAREX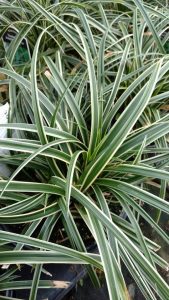 14 different species of native and hybrid to choose from this season! From Native lawn substitutes to bold chartreuse colored varieties to brighten up your shade garden. Carex Ice Dance is pictured
CHELONE TINY TORTUGA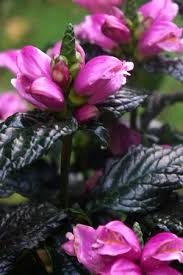 One of the smallest chelone kinds  we sell. Grows to 16 inches tall and wide. Loves full sun. We also carry native Chelone oblique and Chelone Hot Lips. All varieties are great pollinators, with pink flowers blooming late summer into early fall. Perfect for rain gardens since they like most soil.
ECHINACEA GREEN TWISTER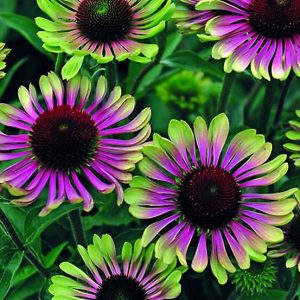 Yes, it really is that color! The Jelitto Seed Co. found this selection growing among Echinacea Magnus.  It's tough and overwinters well, grows 36 inches tall and 18 inches wide in the sun. Super Pollinator plant that blooms Summer till Fall. Makes a beautiful cut flower and is Deer resistant.
FERNS
We have 10 species of native and hybrid ferns to choose from this season. Ferns add beautiful texture in your shade garden or under your trees. They grown up to 24 inches tall and wide and do well with morning to dappled sunlight. They need regular waterings, but they don't do well in moist areas. Very low maintenance. Deer and rabbit resistant. Autumn Fern is pictured.
HELLENIUM SALUD EMBERS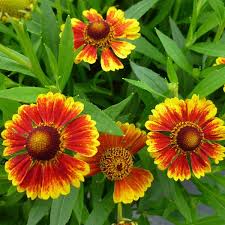 Helenium are stunning Summer-into-Fall garden flowers. They are also useful for cut flowers that have a long vase life.
They attract pollinators and are typically Deer And Rabbit Resistant. Grows to 18 inches tall and wide. For Sunny areas.
HEUCHERA LEMON SUPREME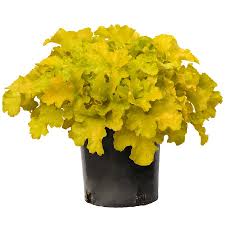 Another great introduction from Terra Nova Nursery! Tolerates sun and humidity better that other heucheras, but still needs some shade in the afternoon. Grows to 18 inches tall and wide.
HOSTA WATERSLIDE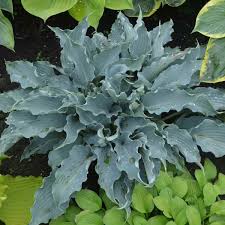 A Proven Winner introduction.  This hosta caught my eyes 4 years ago at a trial garden testing.  I knew I had to get this when it came to market. It's slow growing, but grows to 14 inches and 32 inches wide. Likes shade and morning sun.     

PHLOX FRUITY PINK PARTY DRINK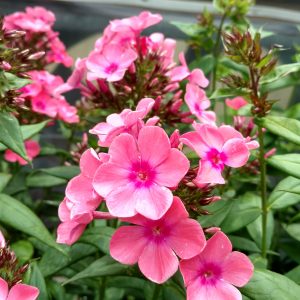 This Phlox is a Ritter Perennials Exclusive Selection. I told my daughter, Ashley, to give it a fun name to match it's stunning color! 
It grows 3 feet tall and wide in the sun. Flowers throughout summer. Deer resistant.
RUDBECKIA AMERICAN GOLD RUSH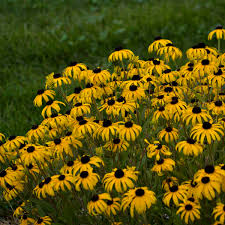 A new introduction by Intrinsic Perennials.  With many strong native characteristics, it grows 18- 24 inches tall and wide. Loves the sun. A great variety for your pollinator or cut flower gardens. Flowers from July into September. Deer Resistant.
STACHYS HUMMELO, 2019 PERENNIAL PLANT OF THE YEAR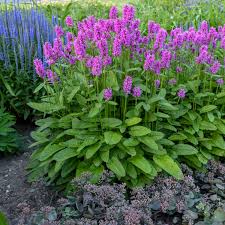 This species of Stachys form long, narrow textured leaves.  With the unique, textured foliage, the plant is lovely even when not in bloom. Sturdy spikes of lavender-rose flowers bloom in summer. Grows to 24 inches tall and wide in the Sun.
Rabbit and deer resistant.